Triton-MRL 90 tab (högkvalité)
320 kr
Triton-MRL (reishi, cordyceps, shiitake)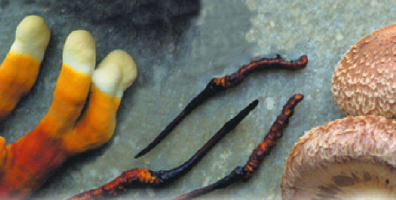 MRL Ltd.´s Triton-MRL powder contains both mycelium and primordia (young fruit body) of Ganoderma lucidum, Cordyceps sinensis and Lentinula edodes separately cultivated into biomasses that as grown on a sterilised (autoclaved) substrates.
This cultivation process ensures the powder is free from contamination by other fungi and that pesticides and heavy metals are absent. The cultivation system is proprietary, allowing for standardised production of Triton when mixed in equal amounts. The powder biomass is then sealed in plastic containers.
The mixture of the three mushrooms is processed under rigorously controlled conditions that are applied to the manufacture of a conventional pharmaceutical. This ensures that each tablet contains 500mg of the standardised combination of Ganoderma lucidum, Cordyceps sinensis and Lentinula edodes.The tablets are film coated to protect them from moisture, thus preserving the quality of the product and ensuring a long shelf life.
After passing quality control testing the tablets are released for use. The choice of additives used in manufacture renders these tablets suitable for Kosher or vegetarian use.
The fungal biomasses Cordyceps sinensis, Ganoderma lucidum and Lentinula edodes that comprises Triton-MRL is certified 100% Organic in the United States by Quality Assurance International (Certificate No. 103491-A).
Each Tablet of Triton MRL contains
Ganoderma lucidum - biomass powder
163.3 mg
Cordyceps sinensis

- biomass powder
163.3 mg
Lentinula edodes - biomass powder
163.3 mg
Other ingredients
Microcrystalline Cellulose
Silica
Vegetable Magnesium Sterate
Triton MRL-Enzyme Activity Per 750 mg Tablet
| | |
| --- | --- |
| Protein content | 18.13 mg |
| Reducing sugars | 13.6 mg |
| Protein-bound polysaccharide | 73.5 mg |
| Peroxidase activity | 47.2 mU |
| Laccase activity | 421.5 mU |
| Glucoamylase / glucansase activity | 2.2 U |
| Protease activity | 34.4 mU |
Disclaimer: Örtmedicin ersätter inte allopatisk behandling. Konsultera alltid din läkare